Freeman
*An example of a
Freeman British coat-of-arms.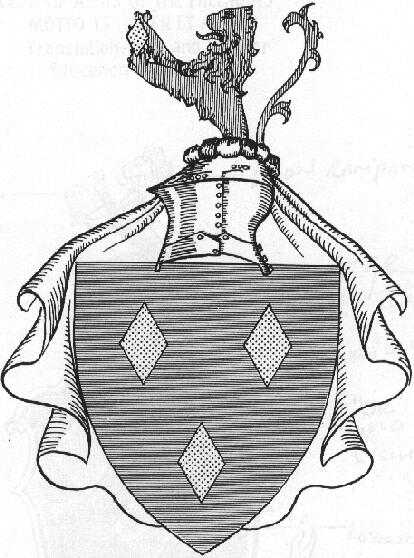 ARMS: Azure blue, three gold diamond-shaped lozenges.
CREST: A rearing demi-lion rampant gules cut neatly at the waist, placed on top of an esquire or gentleman, holding in his paws a golden diamond-shaped lozenge.
MOTTO: "Liber et Audax" (Free and Bold or Education and Audacity)

There are many different coat-of-arms for every different branch or nationalities of different families. Not all families have a coat-of-arms. They are typically an award to an individual ancestor that is passed down through the family like an heirloom. For more information and a tutorial on coat-of-arms, click to visit the College-of-Arms or use this URL http://www.college-of-arms.gov.uk/about.htm.

PLEASE NOTE

*It should be recognized by all Americans that hereditary Coats-of-Arms should only be possessed by those who are entitled by inheritance to possess them. It is as reprehensible to purloin this family possession as it is to purloin any other.

Possession can only be shown by genealogical research which proves descent from arms-bearing ancestors. Psuedo-genealogists have capitalized on the increasing Heraldry consciousness of the American family to spread coats-of-arms pell-mell over the land.

It is absurd, but not uncommon, to find a coat-of-arms displayed where the family could not prove an ancestry of more than three or four generations.

*This coat-of-arms is for example only.
I am fairly certain that this is probably not my Freeman ancestor's coat-of-arms.
An ancestor would have had to have been awarded such,
and I have no knowledge of any of my ancestors receiving one.
Please visit this page again later.
We hope to get a better looking "color" version.
©2001 Alan Freeman
www.ifreeman.com


Back